Don't own any of today's showcased sets? Draw inspiration from any of the projects highlighted in todays' post and adapt a Papertrey set that you already own.
I chose For the Graduate.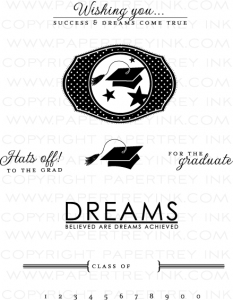 I am having a spring card sale and Graduation cards will be in big demand.
Our school district has 5 High Schools so I will make cards in all 5 school colors.
I am so happy to have my design figured out!
I might even make a few college cards...my baby graduates this year.
It is a blessing and it makes me very sad!
I mixed For the Graduate with Just a Number.
I LOVE that set.
It makes AMAZING cards!
This card is in the color scheme of Blue Valley Northwest.
That is the school closest to me where my boys went to school.
I used Royal Velvet. It is so dark, I might use something different next time.
The black mortar board blends into the purple.
I also might stamp the '17 Dawn included with the Just a Number set...
or I might take ink and the stamps and add that as they sell so they don't go to waste...
Anyway, my card design is done.
That is always half of the battle.
Thank you for looking at my blog!
Susan